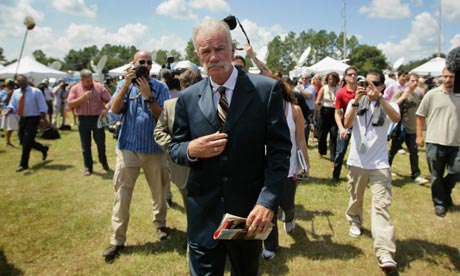 Home secretary Theresa May is under pressure to close the UK's borders to a Florida pastor who threatened to burn copies of the Qur'an.
The American preacher who planned a mass burning of the Qur'an on the anniversary of the 9/11 terrorist attacks could be banned from entering Britain under incitement and national security laws.
Terry Jones, a pentecostal preacher, is to address the far-right group, the English Defence League (EDL), about "the evils of Islam" at a rally in Luton in February.
Theresa May, the home secretary, is under intense pressure to ban Jones and said she was "actively looking" at the case. She said Jones had "been on her radar for a few months" and,
as home secretary, she could ban his entry if he was a threat to national security.
A statement on Jones's website said: "During the protest, Dr Terry Jones will speak against the evils and destructiveness of Islam in support of the continued fight against the Islamification of England and Europe." The EDL said it was "proud to announce" that Jones would be attending its "biggest demonstration to date".
The home secretary has the power to exclude or deport Jones if his presence in the UK could threaten national security, public order or the safety of citizens, or if she believes his views glorify terrorism, promote violence or encourage other serious crime.
However, any eventual decision by May could be reversed. Last year, the ban imposed by the Home Office on the Dutch far-right politician Geert Wilders was overturned at an immigration tribunal.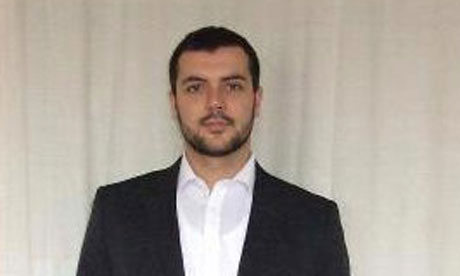 Britain's security services are investigating the UK connections of the suicide bomber who struck Stockholm on Saturday night
(11 December 2010).
Taimour Abdulwahab al-Abdaly,
an Iraqi-born Swede
, who set off a car bomb in the Swedish capital before killing himself with a second bomb strapped to his body,
had a BSc in sports therapy from the University of Bedfordshir
e in 2004, and had spent some time in Luton in recent years. Well-placed Whitehall officials confirmed the bomber's identity and his link to a British university.
According to the Swedish newspaper Dagens Nyheter,
he had travelled to Britain and Jordan in the runup to Saturday's attack
, in which he was the only victim.
On an Islamic dating site, Muslima.com, where he was seeking a second wife, Abdaly, 29, listed Luton as his address, and said he met his first wife in Bedfordshire.
However, his car was registered in Sweden, and the motives declared in emails sent to a Swedish news agency and the security police, addressed local issues. The emails refer to a Swedish cartoonist, Lars Vilks, whose 2007 drawing of the Prophet Muhammad as a dog infuriated Muslims around the world, and to Sweden's 500 soldiers in Afghanistan. "Now your children, daughters and sisters shall die like our brothers and sisters and children are dying," the email warned.
The car bomb caught fire but did not explode and caused minimal damage in a busy Stockholm shopping street. Only one of several bombs Abdaly had strapped to his body blew up, killing him but nobody else.
British security and intelligence sources suggested Abdaly was one of an increasing number of individuals influenced by al-Qaida extremist ideology who have spent time in the UK.
The fascist movement Hope Not Hate launched a petition to ban Jones as "a preacher of hate". Nick Lowles, editor of Searchlight magazine, and the campaign's co-ordinator, said: "[His] presence in Luton will be incendiary and highly dangerous. He will attract and encourage thousands of English Defence League supporters to take to the streets of Luton.
"Like the EDL, Pastor Jones indiscriminately targets all Muslims and their actions can only lead to increased tensions and racism in our communities....
Pastor Jones, a preacher of hate, must be stopped from entering the UK."
Yet the fascist organisation has said nothing regarding the thousands of potential islamic terrorists that pass freely across the borders of Europe training and recruiting potential suiced bombers. Nor have they expressed any concern about islamic terrorists who 'targets all non Muslims and their actions can only lead to increased tensions and racism in our communities...'
If anything it is Nick Lowles of Searchlight and Hope not Hate that pose the threat to national security and should be closely monitored.